Summer update – What you missed
Published:
This July we had an update. You might have noticed. We updated everything from how you add your logo to how you set up documents so that it's now easier to send and manage with Signable. Our developers have worked night and day to make sure signing electronic documents is as fast as ever. We just couldn't stand the green anymore!
While you may be getting to grips with the new layout and structure, you may have missed quite a few new features that were fully released in July. We made these changes with our customer's ease of use as the top priority, so log into your Signable account and follow through the list below…
New Dashboard look & sidebar
By far the biggest challenge was redesigning the main page that you'll use as a customer. The Dashboard is where you go to see a quick overview of what's been signed and what hasn't. But we wanted to take things a step further. So, we added a new date filter at the top of the page so you can filter documents sent within a certain time frame.
Pretty cool? There are also the status filters too, with clear buttons for what's in progress, signed, completed and expired. So you can see who's signing your electronic documents and who's not (see reminders to close contracts quicker).
The sidebar's had a little coat of paint too. We wanted to make it so you can see how many envelopes you've sent and more importantly, how many you've got left. So if you look to the right you've now got a credits bar that'll update realtime as you send envelopes, so you'll know when you're running out or not using enough.
Setting up documents
This is the change that's most noticeable and we've had the most feedback about. We changed the document set up process so that it's less cluttered and more methodical with the addition of steps. There's less information to fill in per step so you can make sure everything looks right before you go to the next step.
We've also added a brand new step for filling in merge fields, take a look below…

This also goes for adding your fields. Even though this bit looks pretty much the same, you're able to do far more, far quicker. Forgot to add a party in? You can add them at this stage by clicking the '+' button at the left-hand sidebar under the other parties you've already assigned.
New templates
If you're not one to use templates, we suggest you start now! Templates are super easy to set up and take a lot of time and repetition out of your admin. The new templates look allows you to easily see all your templates and when you come to send a template you're able to easily search for the name instead of scrolling through millions of templates.
The 'edit' option also has everything available at a glance, from assigning up Merge fields to setting up reminders.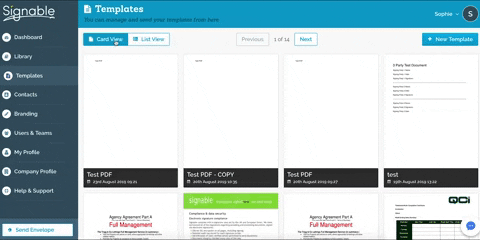 Users updated
You're now able to add and manage permissions seamlessly. There's users & teams tabs across the top bar so that you're able to see what permissions a team has and change them with a click of a button.
There are new view options so that you can personalise how you'd like to see your users. Like your very own black book, or an old-school Filofax.
Billing
We've updated this part a lot. You said you wanted easier ways to upgrade and downgrade between plans. That's what we've given you and more! You're able to see a really clear overview of your account, your current usage, your available envelopes, and your overages. If you think you're using your current plan to its limit, no problem you can switch plans right there on the same page. No faff.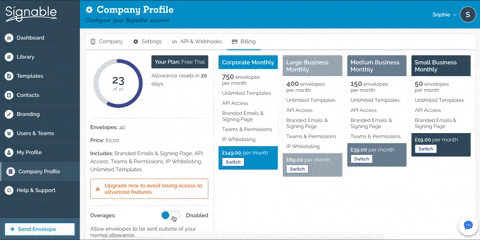 Signing page
We've kept this page mostly the same as the old reliable, but we've given it a lick of paint, so it's looking clearer & up to date making signing electronic documents is even easier!
Or…
If you're not a customer yet and fancy giving it a go for 14 days? Sign up below for a free 2 weeks!
Your name Email address Company name
We may send you emails directly about your Signable account. These emails will come directly from Signable and will always be related to your account. You may opt-out of these emails via the link at the bottom of the email that you receive.