Pete & Liam's Journey to Junction Hackathon 2017
So it was decided that Signable would send us both to Junction 2017, to Europe's biggest hackathon! And boy, were we excited..!
To start off, it was an early start for us, waking up at 4 am to get our bus all the way over to London Heathrow was pretty tough, but Pete and I just talked our way to London.
When we got to Heathrow, after pigging out on food, we got our stuff and headed to the gate. Feeling the kings of the world with our full bellies, we just casually walked our way to the end of the airport thinking that it was the correct gate! So we had to walk from gate 33 to 9, just in time to catch the flight. I guess you could argue it was much-needed exercise after the mountains of food we helped ourselves to.
Once we Landed in Helsinki, Finland, there was snow! That takes my tally to 2 airports landed in whilst snowy. The travel over the hotel was pretty easy, we got on the most silent and comfortable train to Helsinki Center. We strolled around in the city centre, and got completely lost! Fast forward to the events the first day, we got in grabbed our food and settled in by choosing the category we wanted to compete in, upon waiting for our fellow team members, we found out that 2 of them had fallen ill. Our initial category we wanted to work with was Space and handling Satellite data and our ideas were very ambitious, unfortunately, we decided to change category due to our team fatalities. Going back to the hotel a bit frustrated we didn't really know what we were going to do, after sleeping on it, we woke up freshly minded and Pete and I started brainstorming and decided that we would go into the Fintech category with Pete's app idea.
Want to see what that looked like? Well, Pete went and made a video for you!
Our idea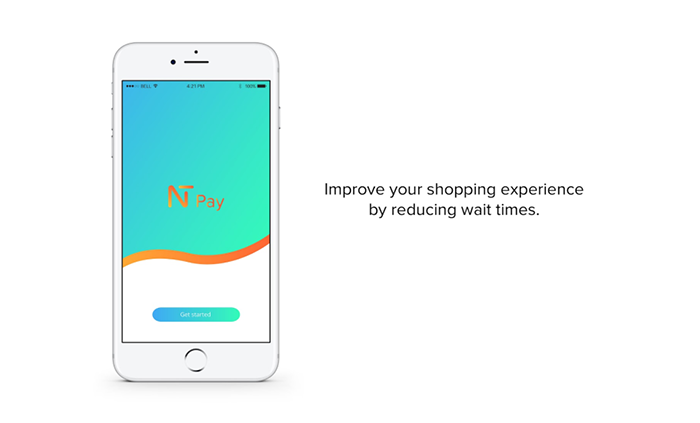 The idea was simple but effective, a self-service checkout system on your phone. In its simplest form the app can scan barcodes of products in a shop and it adds them to your basket in the app, once you're happy you click to pay and simply choose from one of your saved cards to buy your items, then you can just walk out the shop without queuing to buy your products!
Building the app was fun but yet very exhausting, after a couple nights with very little sleep, we managed to pull something out the bag, which was pretty impressive considering our loss of time on the first day and our loss of workforce.
Junction was superbly well organized, they had free snacks, popcorn, coffee, free lunches and drinks! Oh, can't forget the free t-shirts and plenty of stickers! My mac is now covered in them, just so that people know I've been to Junction #showboating.
On our last day, the whole day was delayed due to technical difficulties, which put us at jeopardy of missing our flight, demoing the apps to the judges didn't start until around 1 ish and went on for a couple of hours, but the thing was we needed to leave the venue at 3, so we were super tight for time, with only 5 minutes to spare our last set of judges appeared and did their judging. We rushed all the way to the airport to just make it before the gate closed. Pete and I did start weighing up the options as to what we were going to do if we did miss the flight, like one idea was to make an igloo and become Eskimos for a couple of days whilst the problem sorted itself out somehow, luckily for everyone, this didn't happen.
It was truly a great weekend that I, and no doubt Pete, will remember for the rest of our lives! We got a lot of free stuff, including food (makes anyone happy), and just had a great time doing something we love doing. Unfortunately, we didn't win anything. But hopefully next time we can go there with a full team and win everything! Yeah…we'll show them…
Until next time, Junction!