Word from Winbox: The power of video marketing for small businesses
Published:
Video marketing is currently at an all time high. You don't have to look very hard to find out the benefits it can bring to your business. And so Mr. Marc Woodland is back to show us how easy it is to harness…
The word from Winbox…
Video represents a huge opportunity for your business. Placing video on a landing page can increase conversion rates by 80% and, in an email, can increase click through by a staggering 200-300%. 73% of B2B industry insiders rate the effectiveness of filmed content above written word and direct mail; networking firm Cisco says that by 2017, 69% of all internet traffic will be video.
Relatively few B2B companies make their own videos, however. This is understandable, since filmmaking is seen as expensive, requiring specialist skills that will pull you away from what you do best.
The reality is different. Videos can, in fact, be simple, fast and cost-effective to produce. Here's what you need to know.
Is film an effective use of my budget?
Targeting 18-25-year-old males, Dollar Shave Club's ad series is a great example of effective video marketing with high production values. In the film, CEO Michael Dubin levers a clever script to entertain viewers, giving them a clear idea of his company's ethos and their service offering – with a giggle thrown in for good measure. Dubin says that the video cost a day of work and $4500 to make. The video has now been viewed 22 million times and added 12,000 new subscribers to Dollar Shave Club's social following overnight. That's a hefty return on a $4500 marketing spend.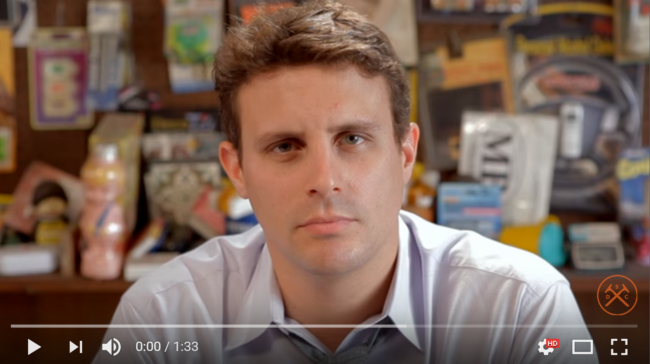 Some of us don't have several thousand dollars to throw at a marketing film, however. No matter; Paulie Gee's video demonstrates how simple production values can have a powerful result, showcasing the owner's values and product offering to great effect. Make sure you check it out here
Produced by food blogger Liza Mosquito de Guia and viewed over 15,000 times, Paulie's video sets a benchmark we can all hit in our films – using only cost-effective equipment and free software. With a little planning, editing a video of this type can take hours – not days.
The answer, then, is yes – video offers serious ROI for your marketing budget.
Your video marketing strategy
Before the cameras start rolling, you'll need to have a clear idea of your marketing message and audience. Regardless of your budget, you need to understand who you're speaking to, what you're saying and how you want customers to respond.
You'll also need to work in the film format that suits them. Vines (short six-second videos) are great for catching attention, but not for expanding a complex idea. 15-minute "how to" videos on YouTube may be a boon for existing customers of a product but will have less appeal to new and first-time customers.
Tools of the trade
The growth in popularity for video marketing means more and more software tools are now available to first-time film-makers. As well as helping make your videos look and sound polished, the deep analytics offered by some programs let you see who is watching and reacting to your films – and how. Such software provides a tangible business benefit. You may see users hitting the 'stop' button within a few seconds, indicating your video needs a punchier intro. Some of your films may be earning more views than others, suggesting a change in content strategy is necessary. Acting on insights like these means your video marketing will improve over time – and your ROI with it.
Once produced, a film can be repurposed in email campaigns, on social media, at events and in blogs. The best bit? Videos continue to drive value for as long as they're online – a truly evergreen marketing asset. Uploaded to Youtube in 2010, the RSA's video on workplace motivation has earned more than 14 million views; Ojai Valley's taxidermy advertisement a mere 16 million.
These are extreme examples, but the point still stands: video marketing for small businesses has never been simpler, more cost-effective or accessible for business owners – and the potential gains have never been greater.
What are you waiting for?
(You can catch the podcast version of this post on Winbox's site)