How to work from home – Our essential tips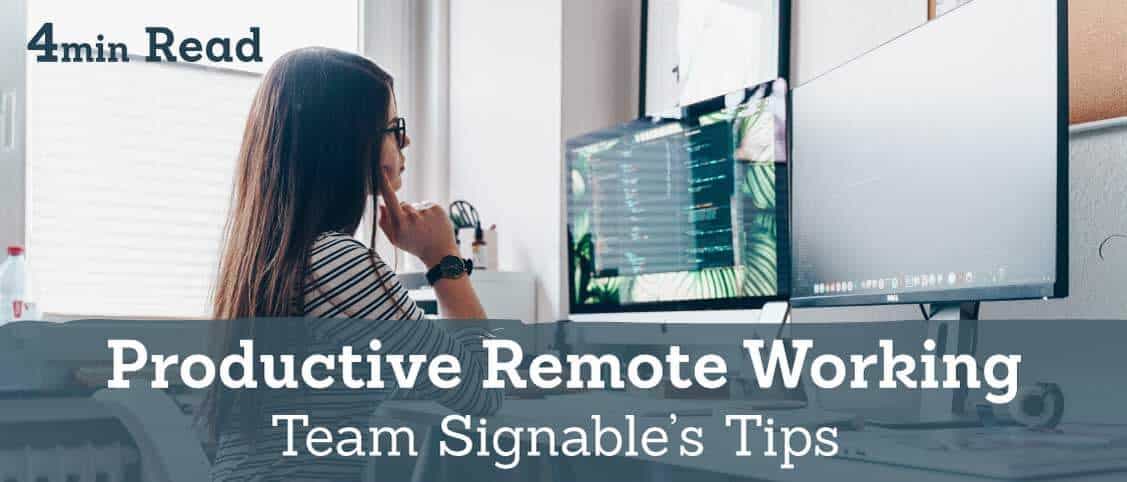 Published:
How do we know what works?
We won't beat about the bush, Team Signable are dab hands at remote working. With a great culture that includes flexible working, we're able to work from home any day of the week, so long as it doesn't clash with anything important in the office.
This means we're pretty good at making the most of working out of office. So, we asked the team, 'what do you do that makes you productive at home?'
We got some really great advice, mixed with some interesting habits a few of us are now considering. So, here's our top tips!
How to work from home…
A dedicated, clean space
Having a space that's just used for working, even if it's a make-shift desk in your conservatory, you need somewhere distraction-free. We live and die by our home desks at Signable, so the team had a lot to say about theirs'…
Katy-Marie, Head of Operations
"I work in my kitchen, facing the patio doors and I planted a load of daffodils out there so it's really pretty and a nice work environment. Lots of natural light too.
MJ, Marketing Executive
"When I work from home I make sure I have a dedicated spot to work from so I don't get distracted. It's a tidy area where I can look outside so I don't feel locked up."
Take your breaks outside
Taking regular breaks to decompress a bit is really essential wherever you're working. But, when you're at home it's much more difficult to hold your concentration, so rewarding yourself with breaks is really good for building a productive workflow. Our team recommend you take any breaks away from the room you're working in. So whether that's taking lunch in your garden, or just going to the dining room to sit and think that's what you need to do.
Tom, Brands & Marketing Manager
"Take your lunch break outside or failing that at least in a different room."
Dave, Head of Product
"Walk… in the backgarden.. outside.. somewhere as you would wander round the office.. great for lateral thinking."
Katy-Marie, Head of operations
"I take my lunch break outside / in a different room so I feel like I've had a break."
Try and delete the distractions…
If you've just started working from home you'll know how much you're getting distracted. It's hell. So, sometimes the best way to combat the things distracting you is to physically hide them. Sounds odd, but it does actually work because it means they're not immediately available.
Jessie swears by hiding the snacks…
Jessie, Head of Marketing
"Hide your snacks. Seriously! The amount of times you go to your kitchen to make drinks (think about how much tea or coffee you make in the office) its dangerous when you're faced with your own food."
Replicate your environment
Our team are big advocates of replicating your office desk when you set up at home. Meaning you're essentially creating the same environment of the office, but in your house. This works for a number of reasons, most of all it subliminally gets you into the same mindset. It also means you have to think less about where your mouse is, and think more about the tasks you're trying to complete.
Ellie, Customer Success Champion"
"Just emulate your desk in the office as much as poss – have your drinks and mousemat and other items in the same place as you do at work."
Pete, UX Developer
"Use a real office chair if you have one – I was working outside for 40 minutes and my spine did not thank me."

"A breadbin can become a good makeshift standing desk if you can believe."
Katy-Marie, Head of Operations
"I make sure I've got my objectives for the day listed out in my notebook so I don't get off track and some times I time block my tasks. ( I do this in the office too but it works better at home)."
Have a sing-along
Yep, that's right, music will ultimately save you from chewing your furniture. We're big on the collaborative playlists so we always make new ones to play even when we're in the office. When you've got your favourite tunes on, we promise you, you'll see your productivity skyrocket! So try out a collaborative playlist on Spotify – You can learn a lot from people's music taste…
MJ, Marketing Exec
"I play the music that I like through my speakers as there are no colleagues around that might dislike my music taste! Pro-tip, if you have a kid running around, noise-cancelling headphones are a must."
Sophie, Junior Content & PR Exec
"I love making collaborative playlists for the office, everyone adds their choices, and it's a great bonding thing, especially when you're not all in the office together. Though somehow the same 3 songs find their way into every playlist…"
So, wherever you are, make sure you remember this isn't a time to be ignoring each other. Take the time to make conversation & ask as many questions as you need, even if it's in an online chat like Slack. A pro-tip from us, you can send gifs on Slack with the command (/giphy) – it changed the game for us.