Electronic signatures for Accountancy & Tax
Deadlines beaten, compliance exceeded!
Signable gives Accountants and Tax Specialists the power to sign off almost any document, meaning you can throw out that fax machine and get ready to easily sign PDFs electronically.
Try our Accounting Tools for all your needs.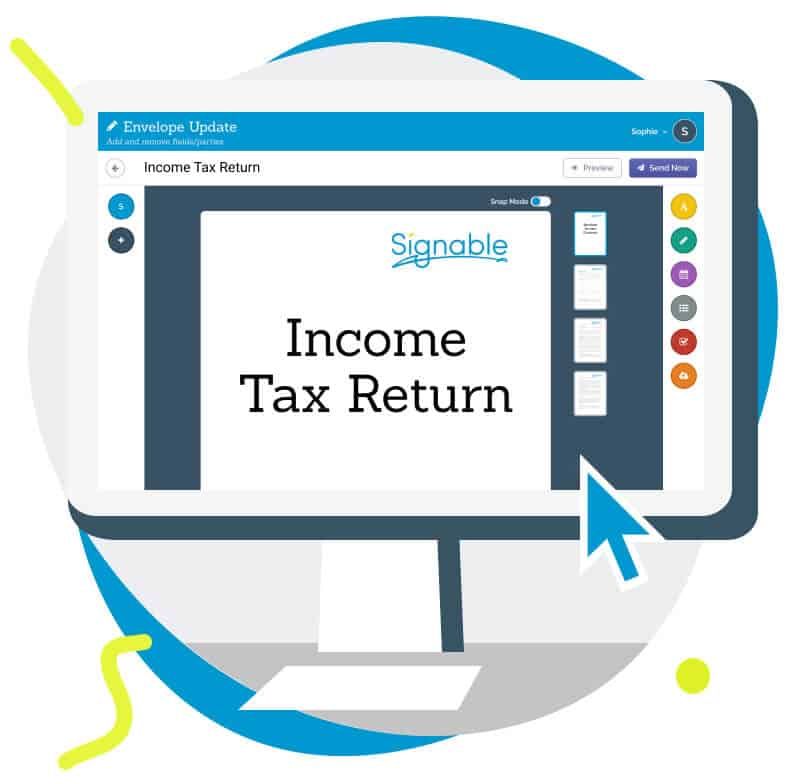 Accountancy & Tax use cases
ITR's
CT 600's
Agent authority IRS Forms
Signable meets your requirements
Download the complete PDF guide
'eSignatures for Accountancy tools'
Why choose Signable?
Legally binding, wherever you're sending to
Legality is something we take very seriously, and with our full compliance to the UK's eIDAS act and the US' eSign and UETA acts, all the documents you send are covered. 
Want to know if a document can be signed electronically? Our team are on hand as experts in electronic signature law, give them a message on live chat or email them on help@signable.co.uk.  
Cater to your clients' schedules
Deals around finance are usually time-sensitive. And as always when concerning money, clients are happier when things are finalised quickly. By using eSignatures clients can view, sign and send documents on-the-go via mobile, or at home. Catering to their schedule and cutting out the need for post runs/ office visits.
Compliance is key
Documents of a sensitive nature need to show compliance with key processes. By electronically sending documents, you can highlight exactly where signatures are needed whilst ensuring nothing is tampered with. 
With SSL encryption and a very detailed Audit Trail that pinpoints the IP address of the signer, you can combat signature forgery with confidence. 
This also ensures your documents are returned correctly and remain readable. 
Signable is a totally awesome package … I've been using it for engagement letters. Using it saves time, paper, money etc. Win, win, win.
Evenstone
Blog post
New Financial Year 2021 Changes & Top Tax Software
Signable meets your requirements
Download the complete PDF guide
'eSignatures for Accountancy tools'
Join thousands of businesses who trust us to get their documents signed